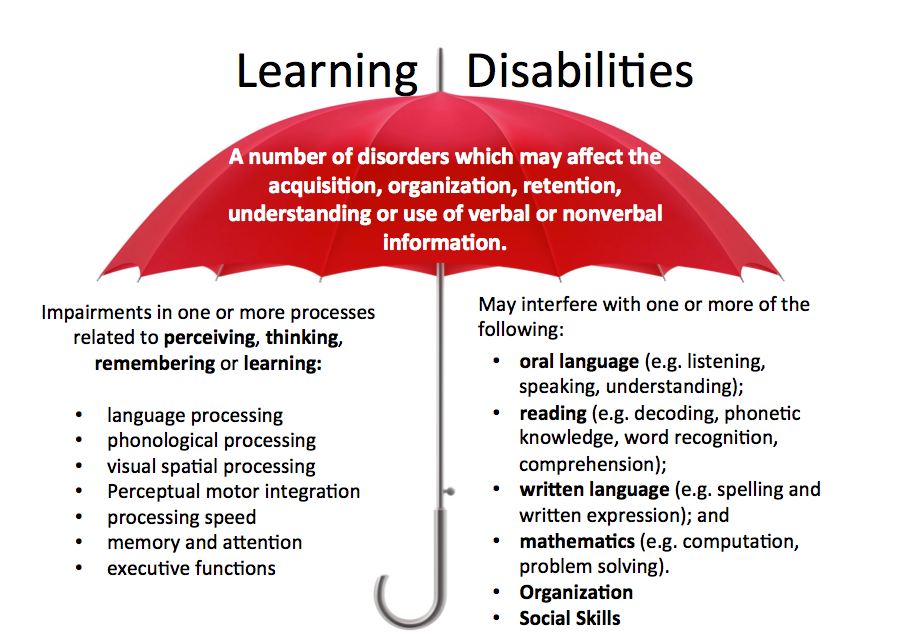 What is Learning Disability?
A learning disability is a neurological condition that interferes with an individual's ability to store, process, or produce information. It can affect one's ability to read, write, speak, spell, compute math, reason and affect an individual's attention, memory, coordination, social skills and emotional maturity.
Learning disabilities often run in families. They should not be confused with other disabilities such as intellectual disabilities, autism, deafness, blindness, and behavioral disorders. Because learning disabilities cannot be seen, they often go undetected. Recognizing a learning disability is difficult because the severity and characteristics vary. It can be diagnosed with tests which measure intelligence and reading, writing, spelling & math ability. Other disabilities need to be ruled out too.
Parents can help children with learning disabilities achieve success by using strengths, knowing their weaknesses, accepting the condition, getting right diagnosis, offering the necessary concessions, using strategies for dealing with specific difficulties & and having the rational attitude towards the disability and the child.
Types of Specific Learning Disabilities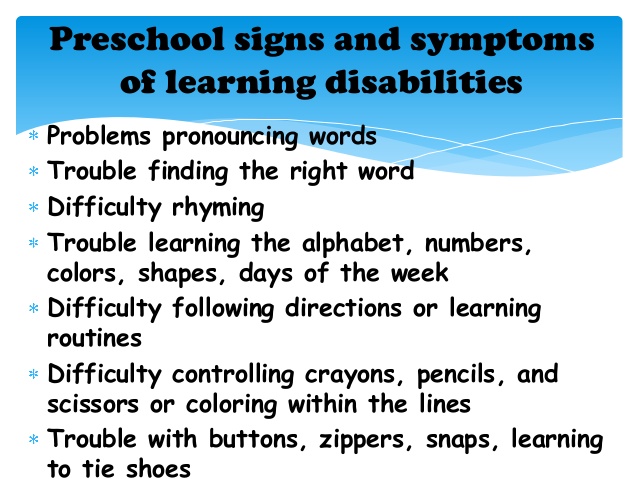 Signs you may see-
Pre-School

Difficulty finding the right word.
Difficulty in remembering rhymes.
Trouble learning numbers, alphabet, days of the week, colors and shapes.
Difficulty following directions or learning routines.
Difficulty controlling pencil, crayons, scissors.
Difficulty with buttoning, zipping, typing skills?
Primary School

Have trouble learning the connection between letters and sounds.
Confuse basic words.
Make consistent reading and spelling errors.
Have trouble learning basic math concepts.
Have trouble learning about sequence.
Have trouble remembering facts.
Middle School

Difficulty with reading comprehension or math skills.
With prefixes, suffixes, root words and other spelling.
Organizing his/her bedroom, notebook, papers, and desk.
Keeping up with papers or assignments.
Difficulty with handwriting.
Difficulty with time management.
Difficulty with understanding oral discussions and expressing thoughts aloud.
High School and Adults

Spelling the same word differently in a single document.
Difficulty in reading or writing tasks.
Difficulty with open-ended questions.
Difficulty with memory skills.
Difficulty in adapting skills from one setting to another.
Slow work pace.
Difficulty in grasping abstract concepts.
Misreading information.
Parental Attitude- What can help?
Acknowledge that your child who is having difficulty in school, could have a potential learning disability.
Understand that these children are as or more intelligent as their peers. Only that their brains are wired differently for learning.
Do not label them as slow or lazy.
Get the diagnosis early.
Start early remediation. If they receive appropriate help by the first grade, 90% of them will achieve normal reading ability.
Do not focus on the disability alone, do the needed steps
Enjoy your child & focus on his strengths.
Do not be over anxious and you may transfer the anxiety to the child.
Steps for making diagnosis of LD in Mumbai, India
Write down the difficulties child is facing in academics.
Discuss with class teacher and get summary as well.
See your pediatrician.
Get you child tested from any dyslexia center.
The following tests are performed –

WISC/ MISIC for IQ evaluation
DTLD/ WRAT/Woodcock Johnson's test battery -For academic skills
ADHDt for attention issues
Hearing & Ophthalmic tests to rule out other disability.
Diagnosis can be done in any center, but certification happens in any of the 3 Municipal Hospitals (Sion/Nair/KEMH) and needs a formal letter from school explaining the child's difficulties on a school letterhead.