Projective Tests (Emotional Battery)
Children's Apperception Test (CAT)
The Children's Apperception Test (CAT) is used with young children of the age group of 3 to 10 years to facilitate the understanding of the various important problems of childhood, such as the feeding problems specially and oral problems generally, sibling rivalry, toilet training and oedipal problems. By the application of this test it was also intended to discover the child's structure of personality, his dynamic mode of reacting to his problems and the manner he would handle his problems of development.
Thematic Apperception Test (TAT)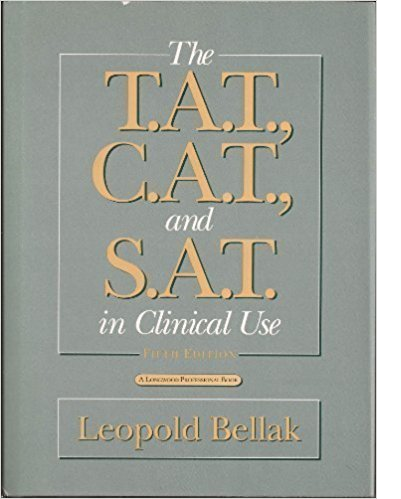 The Thematic Apperception Test (TAT) is a projective technique consisting of a series of pictures, in which the examinee is requested to create a story about what he or she believes is occurring in the events depicted by the pictures. It is considered as method of revealing to the trained interpreter some of the dominant drives, emotions, sentiments, complexes, and conflicts of personality. Special value resides in its power to expose underlying inhibited tendencies which the subject is not willing to admit or cannot admit because he is unconscious of them.
Draw-A-Person Test (DAP)
The Draw-A-Person Test was Developed as an intelligence test, but also tapped a variety of personality variables. The drawing was based mostly on the quality of the drawing and amount of details in it. The graphical representation and drawing are both early developmental skills & are therefore capable of tapping early, primitive layer of personality, set down before a great deal of intellectual control has taken over. The artist expresses symbolically many hidden aspects of personality that people have typically come to control and modulate.
House Tree Person Test (HTP)
The House-Tree-Person (HTP) is a projective technique where through drawings, subjects objectified unconscious difficulties by sketching the inner image of primary process. The HTP, the test taker is asked to draw houses, tree, and person, and theses drawing provide a measure of self-perceptions and attitudes. As with other projective tests, it has flexible and subjective administration and interpretation.
Sentence Completion Test (SCT)
Sentence completion tests are a class of semi-structured projective techniques. Sentence completion tests typically provide respondents with beginnings of sentences, referred to as "stems", and respondents then complete the sentences in ways that are meaningful to them. The responses are believed to provide indications of attitudes, beliefs, motivations, or other mental states. Therefore, sentence completion technique, with such advantage, promotes the respondents to disclose their concealed feelings.